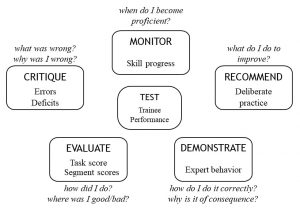 Coaching activities performed by an automated coach in the ADVICE framework
Aims: Develop automated coaching for surgical training that delivers key components a coach as shown in the figure above.
Summary: This project encompasses various surgical data science questions like skill assessment, generating feedback, and monitoring learning. Projects like Automated Feedback for Surgical Training, Robot-assisted Hernia Repair Training feed into this framework.
Funding: JHU Science of Learning Institute Research Grant 2019, American Hernia Society Foundation Robotic Hernia Repair Research Grant 2018
People: refer to individual projects
Publications: refer to individual projects